A dinning-table, writing desk or fireplace are all examples of furniture that defines the function of a space, whether it's a TV stand, entertainment center, or dining room. Furnishing is powerful. Even though we determine how and what to display in our space, they silently influence our moods, habits, thought processes, and even health and luck in geomancy. The connection between furnishings and us is by no means a pleasant chat.
Choosing the right TV stand from the get-go can last you a lifetime without any issues, no matter your budget. It's all about finding the right one for you, no matter your budget. Although you can find a variety of options, it's not as simple as saying that as long as you spend enough money, you'll get the best one.
There are a set of rules behind intelligent decisions, and a lot only becomes clear after you've used it for a while. If you're interested in getting the most out of your TV stand, you should carefully consider these pointers. Check out this guide to learn more.
Yaheetech Industrial TV Stand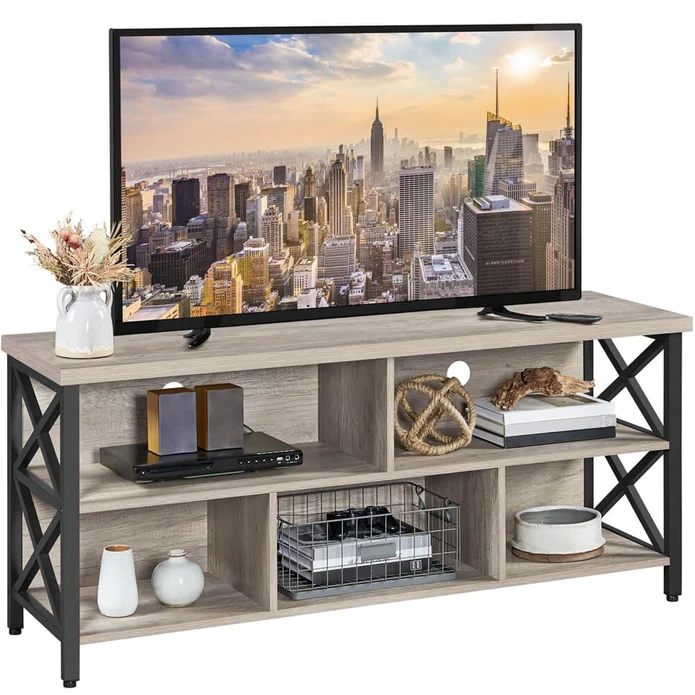 This unadorned industrial TV Stand, with its wood texture and black frosted metal, simple structure, and symmetric geometric layout, creates a soothing, welcoming atmosphere by being austere rather than eye-catching.
The maximum weight capacity of this industrial TV stand is 176 lb. It can hold TVs up to 65" wide. If your TV is a bit wider but weighs less than 176 lb, it will also be suitable.
This TV stand has five storage spaces: two large ones in front and two smaller ones in the back, as well as a central compartment. CD players, magazines, records, art, and souvenirs, among other things, can be stored in this TV stand.
Keeping cables organized and preventing the space behind the TV stand from becoming messy and dusty is important. And it is made easy thanks to the two pre-drilled cable holes in the back of the TV stand. This storage's bottom is designed 3" above the ground, which helps facilitate cleaning dust, hair, and grime.
Professional TV stands are designed with pre-drilled cable holes. They appear simple, but maintaining wires in order and free from dust and messiness is a great indication of designer professionalism. When you purchase a TV stand, be sure to check the cable holes' size and location to ensure they suit your requirements.
The installation of this TV stand should not be overloaded. The exact measurements are ± 1 cm / 0.5″. 2 people should be present to put this stand together. Before installing, please review the instructions thoroughly to avoid future problems. The installation of this stand should take no longer than 40 minutes.
What we like about it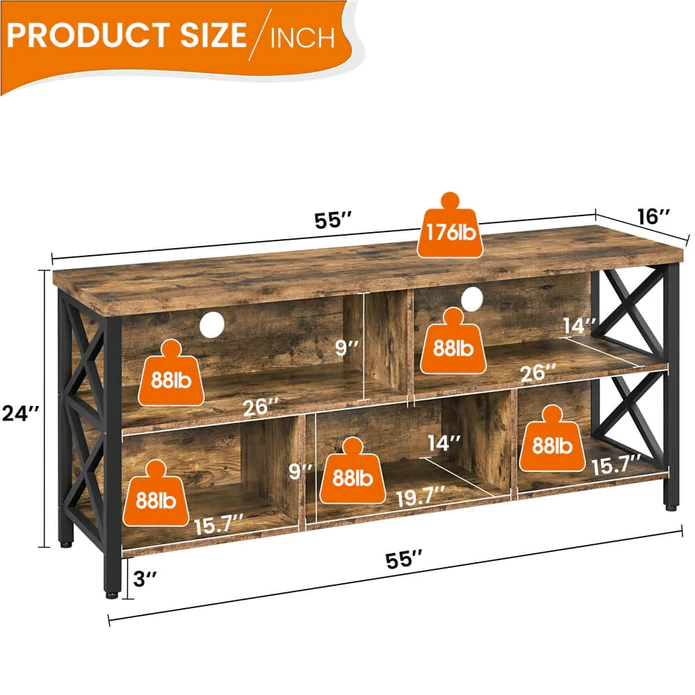 It is a wonderful-looking TV stand. Putting it together was simple, and it is durable. It took about half an hour to put them together. And they look fantastic, providing ample storage space for our TV and video games, as well as their accessories.
The individual parts are well-crafted and fit together seamlessly. And I am really impressed with how nice this looks in my living room. Anyone who needs a lot of storage and a nice-looking TV stand that is worth its weight should seriously consider this. Highly recommend it!
About Yaheetech
Yaheetech is a cross-border e-commerce company established in 2003 with more than 500 employees worldwide. With our own 39 warehouses around the world, we provide a wide range of products with fast delivery to millions of customers in more than ten countries, available on Amazon, Walmart, eBay, Wayfair, Wish, Cdiscount, ManoMano, OTTO, Rakuten, Real and more. We devote ourselves to making your life comfortable.