We will review an advanced toothbrush as an innovative invention that can clean teeth in a short time. Here's our article about Myst Toothbrush!
Cleaning your teeth in a short time? That is the Myst Toothbrush's benefit.
Myst Toothbrush is a toothbrush with the latest technology that effectively cleans all teeth in just 30 seconds. For three years, the company devoted all their idea to create a great prototype. Their ideal shape can clean all of the teeth to an angle that is difficult for conventional toothbrushes to reach today. So, this advanced toothbrush will be a pioneer in the dental health of mankind.
Some doctors around the world always recommend their patients clean their teeth twice a day with a minimum duration of two minutes. But with this new technology, you don't have to spend two minutes cleaning your teeth.
Brushing our teeth is something we have known since childhood. It is still imagining how our parents always teach us to clean our teeth and mouth every time. Even the idea of doing it for two minutes, twice a day, in the morning and the evening is not mere health marketing. These it's our habits. Not even a few of us always brush our teeth every time we finish eating.
Is there technology that can change the way we brush our teeth?
The Myst Toothbrush claims to have created a technology that will shorten the time to brush our teeth to just 30 seconds. Although there is a reduction in time from the ideal 2 minutes, the results can exceed the time we always do before. It's will save our time and we can do other activities to the maximum. Tartar, spots to cavities caused by the way we brush our teeth are not good and less efficient. With calculations and through high research, Myst Toothbrush can solve all your mouth and teeth problems.
This tool is quite simple to use. It works like other conventional brushes, you only need to add toothpaste so it can work maximum. This tool does not use bristles like conventional toothbrushes but uses small silicone that can gently clean our teeth. We only need 18 USD for 6 months of device maintenance. This tool uses a battery, then you can simply charge it with the USB provided.
With this soft material, Myst Toothbrush can use by anyone who does dental implants. So, you don't have to worry about this tool will have a bad impact on the dental implants you have. Silicone will not damage the beauty of your teeth or the dental care that you did before.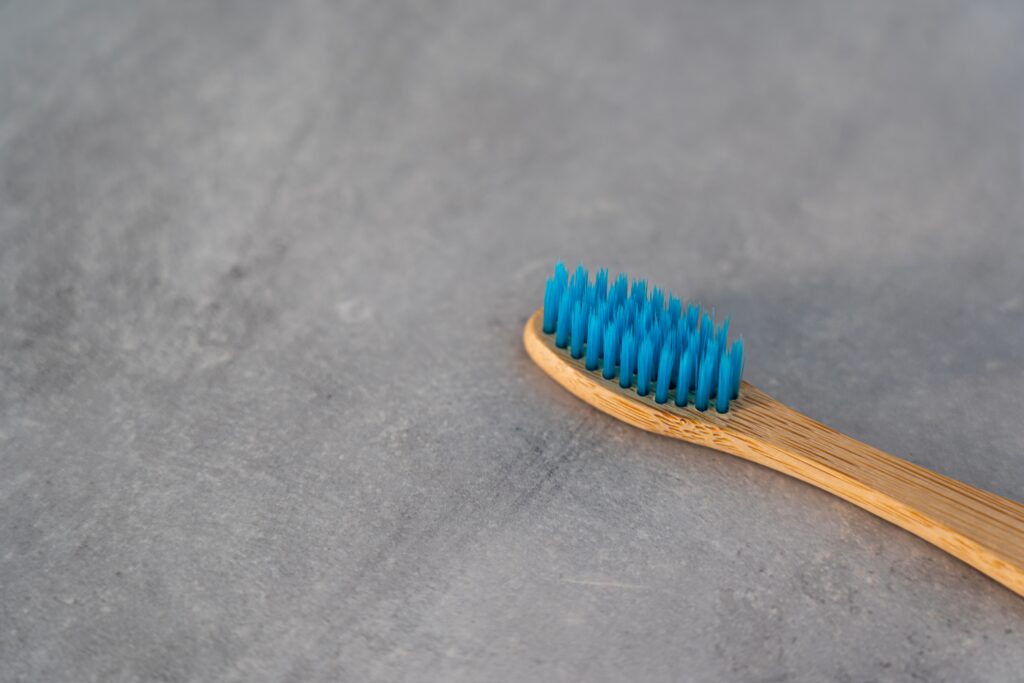 Myst Toothbrush suitable for all teeth
Are you interested in this new way of brushing your teeth? If it guarantees dental health, why not? Do you have a mouth that is bigger than other people's? Or have an untidy tooth structure? Myst Toothbrush is suitable for all situations.
Most people around the world will assume that a stupid thing will always find its fail. Yet all the discoveries to date were initially assumed to be stupid. This is also the case with toothbrush technology. Since the electric version (the Broxodent) was marketed in 1960, people have underestimated and doubted the resulting oral hygiene. They hesitate to buy the electric version. However, It's no longer for this Myst Toothbrush.
Myst Toothbrush has a denture-like shape following the shape of human teeth. It has microchannels that allow the toothpaste to pass through it so all tooth gaps will smear with toothpaste evenly. Myst Toothbrush doesn't use bristles but contains antibacterial silicone that claims to kill 99.99% of bacteria that are present throughout the teeth.
How Myst Toothbrush Works
This Myst Toothbrush has a similar way of working to the previous model's electric toothbrush, namely the handle conducting vibrations to the end of the silicone. So, it does not require energy in cleaning the gaps of the teeth. Whereas previous technology used nylon as cleaning bristles, this device uses silicone bristles for better cleaning efficiency. Silicone is also able to reach all between the teeth. The vibration generated by this tool reaches 30,000 movements per minute!
Myst Toothbrush has a U shape and can reach various corners between teeth in one arch. By using this toothbrush, we do not need to brush our teeth one by one as we use a conventional toothbrush before. So, you can clean all your teeth at the same time with this tool. If we calculated in detail, the average people take 4 seconds to clean one tooth. You need to spend more time cleaning your teeth. But with this Myst Toothbrush, all teeth can be brushed simultaneously at one time. You just need 5, 10, or 15 seconds depending on which model you want to choose to clean all teeth you have.
Myst Toothbrush Review – Product Testing
That is why Myst Toothbrush is used in the mouth like dentures. The difference is only applying toothpaste to this tool. Then after placing it comfortably in your mouth, just press the button and the tool starts working. In testing this tool, we tried it for 30 seconds. You have to remember when you try this tool that first you will be surprised by the speed of this tool and you will accidentally bite the tool. You don't need to bite it, because the shape of this tool has been designed to fit various mouth shapes.
The process performed by Myst Toothbrush is very fast! It only takes a minimum of 30 seconds to produce effective hygiene. You could have used it longer. However, what does it take to linger if this tool can do it quickly?Various people use mouthwash just to clean their mouths. With Myst Toothbrush, you don't need mouthwash anymore.
So are conventional toothbrushes coming to an end? The Myst Toothbrush company has spent about 80,000 dollars to develop this device that can clean the entire surface of the teeth in just 30 seconds. In addition, you do not need to bother using this tool. You can do anything while brushing your teeth.
The reason the Myst Toothbrush company launched this prototype is based on the premise that today's brushing is often ineffective because it is too time-consuming. In addition, conventional toothbrushes can injure the gums and cause minor bleeding. People need things efficiently and safely. That's the reality.
Myst Toothbrush is a new technology that has never existed before. However, over time you will use it naturally and decide to switch from conventional toothbrushes to this innovative toothbrush.
Myst Brush Effectiveness
The claims and promises spoken by the holders of the Myst Toothbrush company about the effectiveness of this tool are quite convincing. As a new one, in this hot event, they managed to raise 80,000 dollars in less than a month.
Cleans Teeth Evenly on All Surfaces
Myst Toothbrush is similar to the shape of dentures or dental protectors for playing rugby. Its shape that covers all the surfaces of the outer and inner teeth can clean them effectively at the same time. This tool was set to be able to spread toothpaste during brushing teeth throughout the teeth in just 30 seconds.
Myst Toothbrush which was launched in December 2020 was originally marketed on a limited basis. However, at the beginning of 2021, this advanced tool has begun to be marketed to various regions around the world. Even unmitigated to issue discounts of up to 50%.
Dental and oral health experts initially often advise patients to brush their teeth at least two to three times a day. Then, the recommended duration of one brushing teeth is at least about 3 minutes. However, people who are very busy and often travel out of town certainly feel bothered by the obligation to bring toothbrushes and toothpaste that take up a lot of space.
Myst Toothbrush = Save Time?
Many times, we say if Myst Toothbrush is a time-saving solution for its users. With just 30 seconds, the cleanliness and health of your mouth and teeth can be guaranteed properly. The tool that fits in the mouth is also very flexible to your space. Your hands can freely perform other activities while cleaning your teeth. Because it uses a battery, you can simply charge the Myst Toothbrush with the USB cable that has been provided. Then within 3 to 6 months, you should replace the silicone head with a new one only at a low cost.
In just 30 seconds all the tooth impurities will be removed!
This is a revolutionary toothbrush called Myst Toothbrush. After you put this toothbrush in your mouth, press the "start" button. In just 30 seconds, all your teeth will be clean. You can call Myst Toothbrush as a small revolution in the bathroom.
You only spend 30 Seconds to ensure dental hygiene. This future toothbrush's name is Myst Toothbrush. The way the user is very easy. Just put this toothbrush in your mouth of course after adding toothpaste. Then press "start". In just 30 seconds, all your teeth will clean effectively to the sidelines that are difficult to reach.
Myst Toothbrush is an automatic all-in-one toothbrush capable of cleaning all teeth in 30 seconds. It can save its users time. If you calculate how long you spend time brushing your teeth with a conventional toothbrush, you will be surprised. It will spend 36.5 hours a year just cleaning in the morning and the night.
Spend 2 Hour in one Year
However, if you calculate the time of use of Myst Toothbrush, then you only need 2 hours in a year in the morning and evening. Imagine you could save about 34 hours in a year. With that much time left, there are many other things you can do besides brushing your teeth.
The Myst Toothbrush uses over a hundred antibacterial silicone bristles. The vibration of the brush will allow the silicone to effectively clean all tooth surfaces. You don't even need to scrub anymore, your hands are free to do other work in front of the mirror. You only need to refill the toothbrush with toothpaste and recharge the battery every 28 washes. Isn't the battery also very economical? it's as if the proponents of this tool thought about various aspects of this revolutionary toothbrush. So a question arises: are you going to use this future toothbrush?
The presence of Myst Toothbrush in your bathroom will make a revolutionary breakthrough. You still have time to get it on the official site. Start cleaning yourself in this era.
FAQ Myst Toothbrush Review
What do we think of this product?
In our opinion, this product is very effective and efficient. It is time for the future to be filled with various sophisticated tools that increasingly help humans in carrying out various activities. Besides, cleanliness and convenience are the keywords in the future civilization
How to buy Myst Toothbrush?
As far as our research is concerned, Myst Toothbrush is only sold on the official website.
Is Myst Brush a scam?
Myst Toothbrush is not a scam product. We have tried it and done in-depth research related to the marketing of this product. In addition, people will also get used to the concept of cleaning teeth in this way. This product is designed so that users can directly adapt to this tool.
How much does Myst Toothbrush cost?
The price tag for this tool ranges from 89.99 USD. The Promos and other discounts will appear on their site.
How can I see Myst Brush videos?
To date, there are dozens of Myst Toothbrush review videos on YouTube or Vimeo.
How do I contact Myst Brush customer service?
You can directly visit the website and then move to the contact page on the website.
Where can I find discount codes for Myst Toothbrush?
You can get discount codes from the company. Only a few people selected to get up to 50% off. Therefore, information about discounts will appear on their site.
Does Myst Toothbrush work?
Sure, Myst Toothbrush works just fine. Laboratory test results show that all of our teeth will be clean after 30 seconds of brushing using this tool. Its 3 operating modes also make it possible to clean and massage the gums. In addition, this tool is also equipped with a natural teeth whitening feature. We haven't proven it yet. Feel free to prove yourself at home.
Does Myst Toothbrush use toothpaste?
Of course. You still need toothpaste. No matter how sophisticated this tool is, you still need toothpaste as a formula to solve all problems in the teeth.
How much does Myst Toothbrush cost?
Myst Toothbrush currently has a price of $59.99 according to the information we can see in the store.
How to use Myst Toothbrush?
Apply toothpaste evenly to both sides of the funnel.
Place the funnel between your upper and lower jaws.
Move the brush from side to side for the best brushing experience.